Noesis Solutions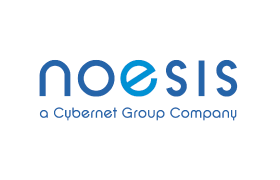 Optimus, an Automation and Optimization tool by Noesis Solutions, enables users to outsmart competition while taking into account all relevant design constraints – effectively implementing an Objectives Driven Engineering process, and saving time & resources. Optimus bundles a powerful range of capabilities for Engineering Process Integration, Design Space Exploration & Optimization, and Robustness & Reliability.
Product name

Product detail
As a state-of-the-art automation & optimization software, Optimus offers a number of direct interfaces to a wide range of leading simulation softwares – and to JMAG-Designer in particular. Optimus for JMAG-Designer automates the creation of a simulation workflow that contains JMAG-Designer model entries. Rather than defining manually substitution and extraction rules of design variables and output results, the user sets up the parametrization of his JMAG-Designer model from a dedicated Optimus dialog.
A powerful search engine embedded in Optimus offers dedicated filters, based on the JMAG-Designer parameter type, to simplify the selection of the design parameters and the desired result components.
Optimus automatically modifies the JMAG-Designer model design parameters, generates and updates the underlying files and extracts the result outputs (scalar and vectors) to be used in a simulation campaign.
The automated Optimus process frees users from repetitive manual model changes and data processing, while efficiently identifying design space regions containing leading candidate designs. Those product designs meet a combination of objectives set by multiple (often competing) performance targets, as well as design constraints imposed by manufacturing realities and stringent regulatory and standardization requirements.
Manufacturing tolerances may seriously impair performance of optimized product designs. Optimus therefore applies robustness and reliability concepts to ensure that designs are robust to manufacturing tolerances and geometric variations.
Newly supported features/case
In addition to the automated extraction of scalar result values and curves or vectors, now also efficiency maps can be created and stored automatically from within the Optimus workflow. The JMAG output interface in Optimus displays a full list of efficiency maps that can be extracted by simple selection of the user. For each experiment started within Optimus an efficiency map is created and available for analysis.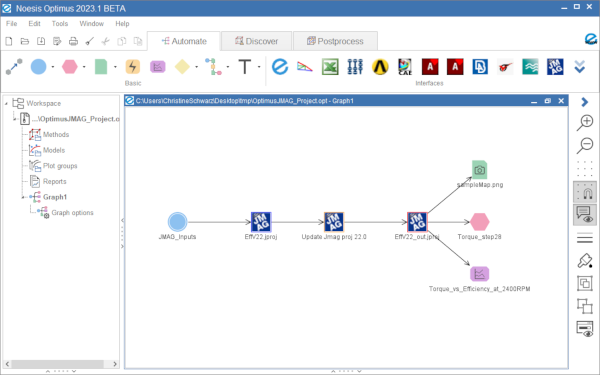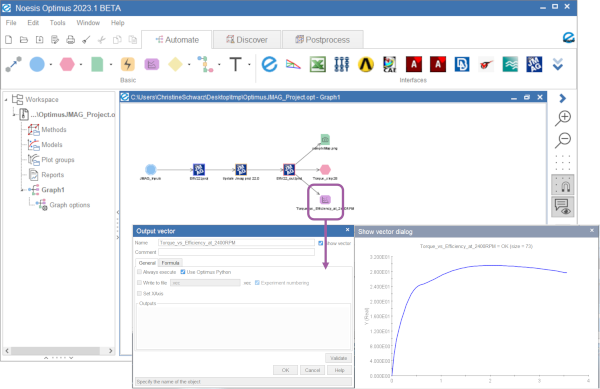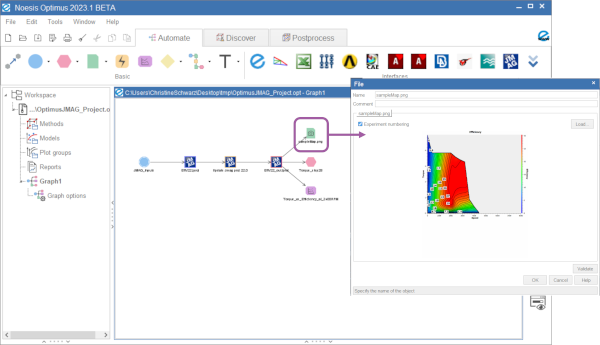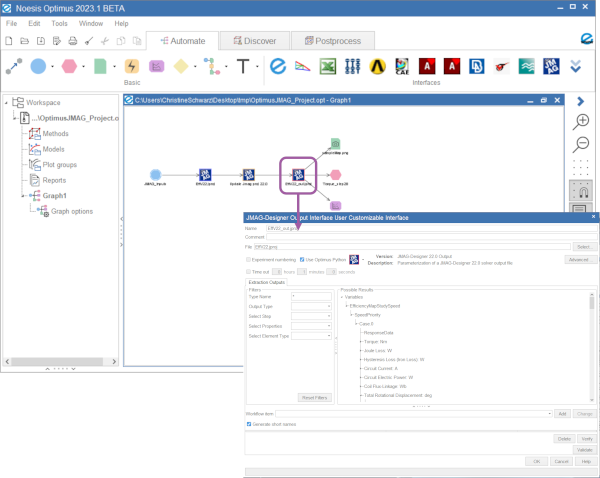 JMAG-Designer | Supported Versions
| Software Version | Optimus 2022.2 | Optimus 2023.1 |
| --- | --- | --- |
| 22.0 | × | Supported |
| 21.0 | Supported | Supported |
| 20.0 | Supported | Supported |
| 19.0 | Supported | Supported |
*Versions of JMAG-Designer for which support has ended are also posted.
Please check here for the latest version and supported version.
Product features
Process integration and automation
Direct interface to JMAG-Designer for easy integration within an automated simulation process
Design space exploration
Design of experiments
Surrogate modeling (or Response Surface Modeling)
Single and multi-objective design optimization
Statistical data mining & analysis
Robust design optimization
Reliability-based design optimization
Industries
Aviation & Aerospace
Automotive
Consumer Goods
Defense
Electronics
Energy & Environment
Ground Vehicle
Healthcare
Industrial Equipment
About company
Established in 2003, Noesis Solutions, a trusted digital engineering innovation partner, has empowered customers adopt a transformational strategy that resolves their toughest multi-disciplinary engineering challenges of today. Our continuously evolving product portfolio, state-of-the-art technology, and unmatched customer services enable customers transform the way they build their products in a much faster and an efficient manner.
Noesis Solutions is a majority-owned subsidiary of Cybernet Systems, a leading provider of multi-domain CAE solutions covering a vast range of engineering problems. Headquartered in Leuven, Belgium, Noesis Solutions operates through a network of subsidiaries and representatives in key locations around the world.