Learning How to Use JMAG
Are you interested in JMAG, but don't know where to start?
Want to find out more?
"Learning how to use JMAG" is an introductory guide that will take you through a step-by-step process on how to start and use JMAG for the first time. Follow the program to learn the operations, the concept of modeling and to deal with problems.
A must-see for those who want to use JMAG!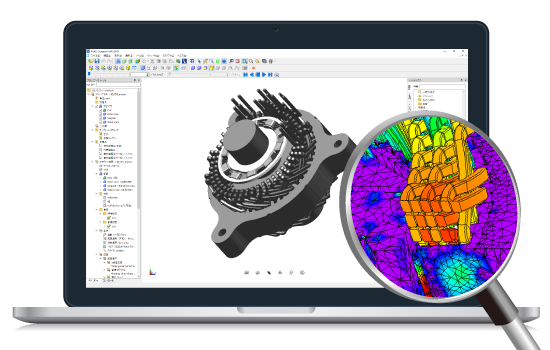 Program
Basic Curriculum
How-To (1) Basic Operations and the Concept of Modeling
Start by using the tutorial; Self Learning System (SLS) to study the operations and analysis flow in JMAG.
Refer to the key points in each procedure which describes the concept of "why the settings are set the way they are" in modeling.
Objective:
get used to JMAG operations and learn the process and concept of analysis
How:
actually run operations in JMAG
Content:
Self Learning System
Refer to the table below to select the one similar to what you want to analyze.
Estimated time:
half day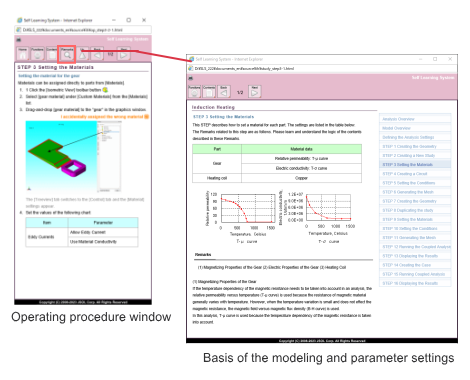 Case Study
Steps to Study
Motor
PM Motor > 2D Analysis
Up to STEP 11
PM Motor > 3D Analysis
Up to STEP 8
Induction Motor
Up to STEP 8
Transformer
Transformer > Transformer Analysis
Up to STEP 8
Linear Actuator
Solenoid Valve
Up to STEP 7 or STEP 11
Induction Heating
Induction Heating
Up to STEP 16
Sensor
Sensor
Up to STEP 7
Wireless Power Transfer
Wireless Power Transfer
Up to STEP 9
NOTE
STEP 1 of SLS is about creating the geometry. If you are using CAD models, start from STEP 2.
The program can also be started from the Windows menu. Click the Windows button, and select [JMAG-Designer] > [Self Learning System].
Advanced Curriculum
How-To (2) Working on your own assignments
Once you get to know the basic operations in JMAG, you can start working on your own assignments.
JMAG has substantial technical material for use in finding solutions.
Refer to them when you are not sure about the concept of modeling or when using new functions.
We hope you will find them useful in finding solutions.
Objective:
create your own analysis model
How:
depends on the content used
Content:
Estimated time:
a few days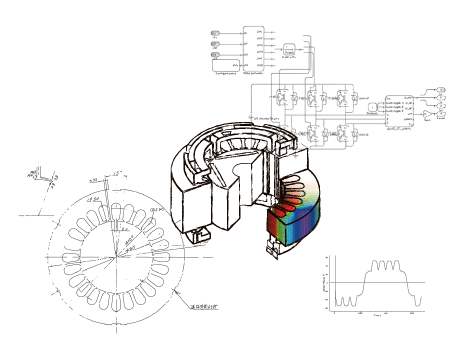 The JMAG Application Catalog
Learn how to create models for each of your objectives using applications.
The
Application Catalog
is a collection of JMAG analysis examples.
The Application Note (explanations) and model data are provided.
The concept of condition settings is described in detail in the Application Note.
E.g.) How is the time interval determined?
  ・What should the number of divisions around the circumference be?
  ・What kind of settings are required to account for eddy current?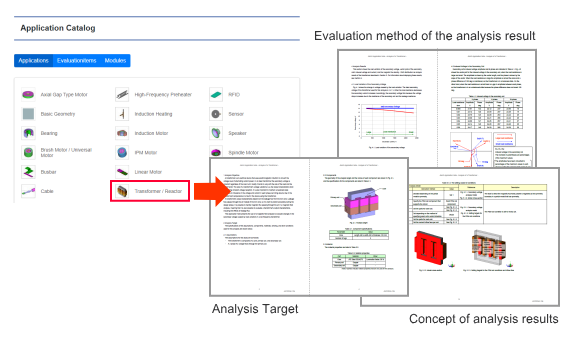 Find one that is similar to what you are working on and use it as a reference to create an analysis model.
How to view the catalog
Select [Help] > [Application Catalog] in the JMAG-Designer menu bar.
JMAG Website:click here
How to search for JAC
Search from [Applications] or [Evaluationitems].
NOTE
A license ID (or User ID) and password are required to obtain this data. Check with your administrator for the license ID and password.
Learning function operations with the "Self Learning System"
The Self Learning System explains more than just basic analysis. The procedures for parametric analysis and optimization and loss analysis are also provided.
Topics
Steps to Study
Parametric Analysis
PM Motor > 2D Analysis
From STEP 12
optimization
PM Motor > 2D Analysis
From STEP 17
Structural Analysis
PM Motor > Structural Analysis
Thermal Analysis
Transformer > Thermal Analysis
Loss Analysis
Transformer > Loss Analysis
JMAG-RT
PM Motor > Control Circuit Simulation
Troubleshooting
Extra Edition What to do when you have problems
As you study the program, you may come across things you don't understand or have doubts about. If you do, take a look at the following contents. They may be helpful.
Other Documents
Documents and services in addition to those introduced in the program are available.
Make use of the following contents and try out new functions.