JMAG-Express
Machine Design Tool for design engineers
JMAG-Express quickly performs multifaceted evaluation to obtain machine design that meets performance requirements.
Operations are easy with templates for motor geometry and evaluation results. The templates can be reused and you can run multipurpose optimization with the built-in engine.
Design exploration covers magnetic, thermal, structural, and control design and tests a wide range at high speed from concept design to detailed design.
JMAG-Express
One-click simultaneous evaluation of magnetic, thermal, and structural characteristics of motors
High-speed calculation makes way for evaluation of multiple motor designs
Run a detailed evaluation in JMAG-Designer by just switching display mode
Flexible support for analysis accuracy requirements and various applications
Multifaceted evaluation of motors using JMAG-Express
Enter motor specifications and run to view magnetic, structural and thermal motor performance. Check the efficiency map, history of parts temperature, and where the maximum stress originated and its value. In addition, you can view a comparison of multiple design plans in a single screen.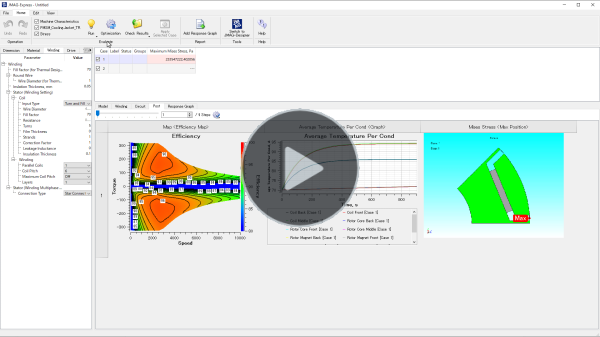 Capabilities
Motor design
Preinstalled scenarios are provided for IPM, SPM, and IM design.
Combining these scenarios, you can quickly study design plans that meet magnetic, thermal, and stress constraints.
Magnetic design: machine constant, efficiency map, cogging torque, torque ripple, induced voltage, demagnetization
Thermal design: natural/forced cooling, cooling jacket, temperature evaluation in a drive cycle, etc.
Structural design: stress evaluation
You can run parametric studies with different numbers of pole slots and coil pitches.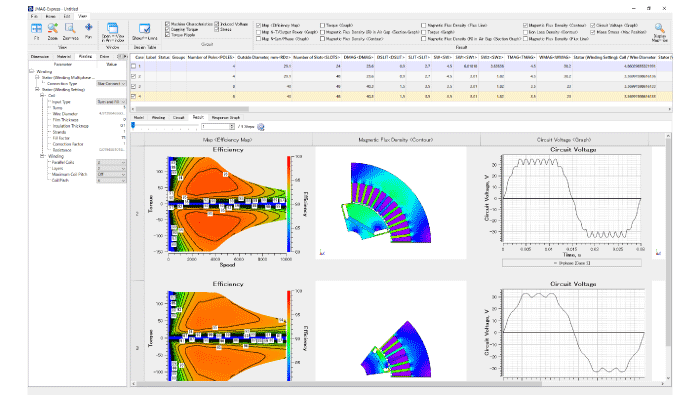 Parametric studies with different numbers of pole slots and coil pitches
Evaluation of parts temperature in drive cycle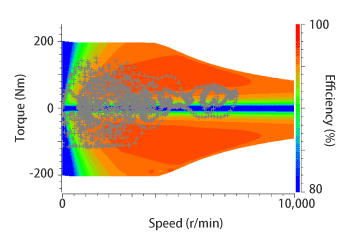 Efficiency map and operating points for driving mode
Time history of temperature
Temperature for specific parts during WLTC driving mode
Create efficiency maps quickly. During WLTC mode drive, you can also check the efficiency, loss, and more. These loss histories can then be referenced in thermal design, and the temperature history of the parts can be evaluated. After running WLTC mode drive, the magnet and coil temperatures have increased by 5 deg C and 35 deg C, respectively.
Evaluate part temperatures and investigate cooling specifications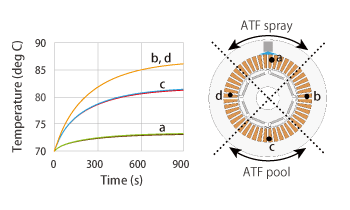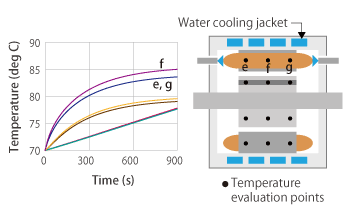 Temperature evaluation of motors cooled by cooling jackets and ATF spray
Thermal circuit models are available for general cooling types for motors. Multiple temperature evaluation points are established in the axial and circumferential directions in addition to the temperatures for each part. Temperature evaluation is then run accounting for the deviations in cooling that occur as a result of each cooling type.
From the graph, it can be seen that temperatures are higher at the coil ends where the ATF spray is not directly applied, as well as the middle of the coil. This occurs even within the same coil.
Evaluation by merely selecting and combining the model and scenario
Create your own models and scenarios, enter specifications such as dimensions, and power supply, and click "Run" to evaluate machine characteristics.
You can select user-created models added to JMAG or preinstalled models.
c.f. IPM, SPM, IM, WFSM, Claw Pole, Axial Gap Motor, transformer, solenoid, IH etc.
Motor Performance Evaluation Using JMAG-Express with User Geometry
JMAG Function Videos
Scenarios are templates created from basic settings of FEM analysis (analysis method, material, analysis conditions, mesh parameter, electric/thermal control circuit).
Create scenarios based on your analysis theme or select from preinstalled scenarios.
Parametric studies that cover magnetic, thermal, structural, and control design
Combine any design variables to test various design plans.
The JMAG-Express license can simultaneously run multiple designs.
Simultaneous evaluation of magnetic and structural characteristics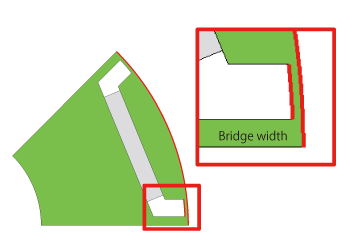 Rotor shape and design variable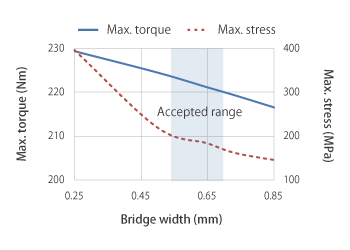 Bridge width, maximum torque and stress
Design plans that meet requirements for maximum torque and maximum stress
Evaluated maximum torque and maximum stress with design variable of the bridge width. When making bridge width wider, stress decreases but the maximum torque is also decreased. Both requirements of torque and stress are fulfilled around 0.65mm.
Design exploration using the built-in optimization engine
Supports parametric optimization.
You can combine parameters such as magnetic, thermal, structural, and control design to run multipurpose optimization
A comprehensive search can be performed in the early stages of design.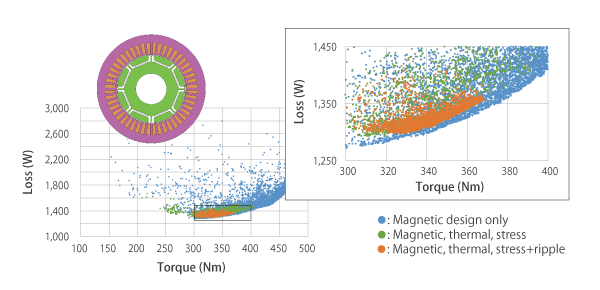 Design exploration results that vary depending on the constraint conditions to account for
9 geometry dimensions are the variables for an 8-pole, 48-slot IPM motor. Parameter optimization is run with average torque maximization, torque ripple minimization, and loss minimization as the objective functions. By accounting for not only magnetic characteristics as a constraint condition in the early stages of design but also design requirements such as thermal, stress, and ripple, even more appropriate design plans can be narrowed down even faster.
Detailed evaluation by switching display modes
JMAG-Express and JMAG-Designer always share all settings including model and condition settings.
You can easily go back and forth between JMAG-Express and JMAG-Designer by switching views and running a detailed evaluation in JMAG-Designer.
Application Catalog
In this example, the part temperature and stress are evaluated at the same time for the motor design plan, and a design plan that meets the requirements is explored.
If you want to try a case study,
please contact us.