Sign in to download the data
Remember me
Sign In
*Please prepare a license ID and password for the license administrator.
*It is different from the service for JMAG WEB MEMBER (free member). Please be careful.
About authentication ID for JMAG website
Overview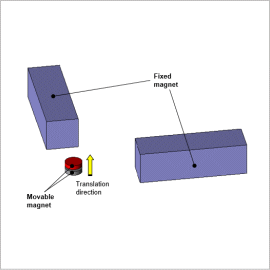 With the miniaturization of electrical equipment, the amount of equipment that uses minute electromagnetic forces is increasing. Therefore, it is important to understand the minute electromagnetic forces that act between parts, such as between multiple magnets.
With magnetic field analysis, you can estimate minute electromagnetic forces at a high accuracy.
In this example, we obtain the minute electromagnetic forces acting on a magnet that is moving translationally.
Electromagnetic Forces Acting on the Magnet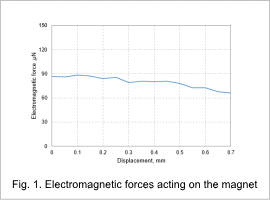 The electromagnetic force acting on the movable magnet in the direction that it moves in is shown in Fig. 1.
The movable magnet is moving translationally away from the fixed magnets. As a result, as the distance moved increases, the electromagnetic forces acting on the movable magnet decrease. You can check these trends even with minute electromagnetic forces.