Sign in to download the data
Remember me
Sign In
*Please prepare a license ID and password for the license administrator.
*It is different from the service for JMAG WEB MEMBER (free member). Please be careful.
About authentication ID for JMAG website
Overview
The characteristic of the variable magnet is that it allows the demagnetization of magnetic force and for controlling increases in magnetization by an applied magnetic field (Fig. a). In JMAG, it is possible to use subroutines to analyze variable magnets.
This document describes the method for analyzing variable magnets using subroutines.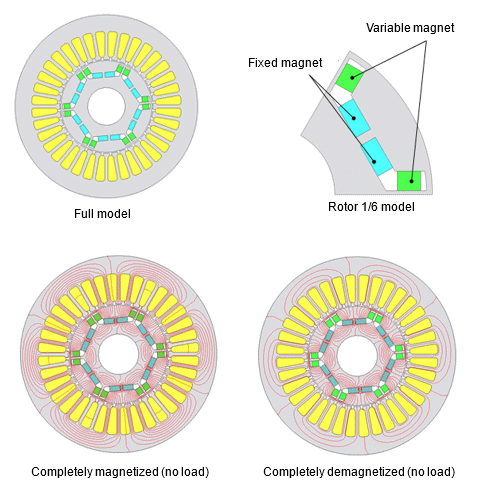 By changing the current flowing in the coil, the variable magnet can be either completely magnetized or completely demagnetized.
When completely demagnetized, it is understood that the amount of magnetix flux flowing in the stator is reduced.
Fig. a Example of using a variable magnet (memory motor)
Keywords
variable magnetic force motor, memory motor, residual magnetic flux density, subroutine, variable magnetic flux, variable magnetic force, variable magnet