Sign in to download the data
Remember me
Sign In
*Please prepare a license ID and password for the license administrator.
*It is different from the service for JMAG WEB MEMBER (free member). Please be careful.
About authentication ID for JMAG website
Overview
In order to reduce calculation time, partial models instead of full models may be adopted in an analysis (Fig.a). In such cases, settings are created by converting the circuit parameters to partial models.
In JMAG, full-model values can be input with the circuit-conversion function. For multiple circuits, settings for whether to convert or not, and the conversion rate for each circuit can be set. In addition, circuit conversion can be performed, not only for the input value but also for the result value.
This document explains the procedure on how to set the conversion of multiple circuits in a cage type induction motor model.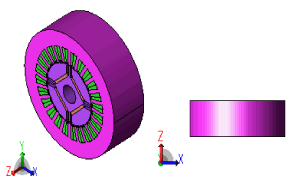 Left: Full model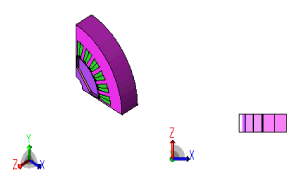 Right: Partial model
(1/4 in circumferential direction,1/2 in axial direction)
Fig. a Example of full and partial model
Keywords
Circuit, Circuit conversion, Induction motor, Partial model