Sign in to download the data
Remember me
Sign In
*Please prepare a license ID and password for the license administrator.
*It is different from the service for JMAG WEB MEMBER (free member). Please be careful.
About authentication ID for JMAG website
Overview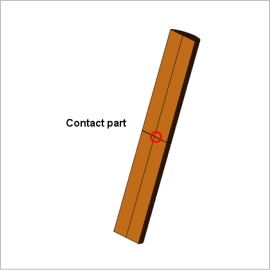 Electromagnetic repulsion is generated in the contact points of switches used in electrical equipment and current inflow points during resistance heating when contact terminals bridge through a small point. It is advantageous to investigate the size of the electromagnetic repulsion when designing a device, or to understand the phenomena that are actually occurring.
This Application Note presents the use of a magnetic field analysis to obtain the electromagnetic repulsion when a switch is closed, creating a contact bridge.
Current Density Distribution, Lorentz Force Density Distribution, Electromagnetic Repulsion
This section shows the current density distribution near the contact terminal in fig. 1, the Lorentz force density distribution in fig. 2, and the electromagnetic repulsion in fig. 3.