Yasuhisa Ito, Development Section, Transformer Design & Development Department, Power Transformer Factory, T&D Business Unit., MEIDENSHA CORPORATION

Abstract
In transformer design, it is essential to study loss using magnetic field analysis. In recent years, three-dimensional magnetic field analysis for large power transformers has also become possible in practical time. We introduced an example of them in JMAG Users Conference 2019.
In this presentation, an example of three-dimensional magnetic field analysis of large power transformers using transient analysis is introduced, where the following topics are described: the condition of transient analysis, the comparison between results using frequency response and transient analysis, and the computation time when using parallel computing.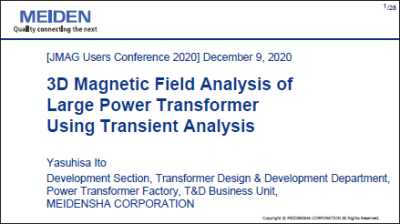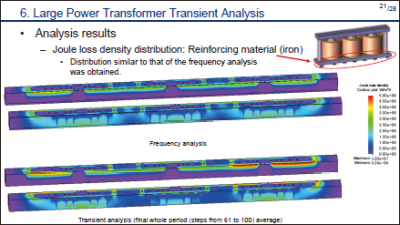 To read Proceedings, please sign-in.
Protected content here, for members only.
You need to sign in as a JMAG software regular user (paid membership) or JMAG WEB MEMBER (free membership).
By registering as a JMAG WEB MEMBER, you can browse technical materials and other member-only contents for free.
If you are not registered, click the "Create an Account" button.
Remember me
Sign In
Create an account (Free)
About authentication ID for JMAG website