Tatsuya Higashi
Research Institute of Car and Life-style, DAIHATSU MOTOR CO., LTD.
Department of Environment and Energy Systems,
Shizuoka University, Graduate School of Science and Technology

Abstract
Axial-flux permanent-magnet synchronous motors with large D/L ratio and high pole-pairs are expected to be applied to in-wheel traction motor drives because of their high torque density.
This paper introduces a double-sided axial-flux permanent-magnet synchronous motor with a three-phase fractional-slot winding system in an 18-slot/20-pole configuration with reduced torque ripple for electric transport vehicles-designed using JMAG-as well as a comparison of efficiency maps with the actual machine.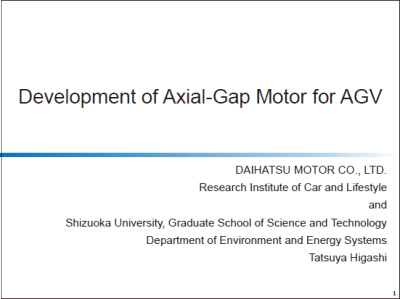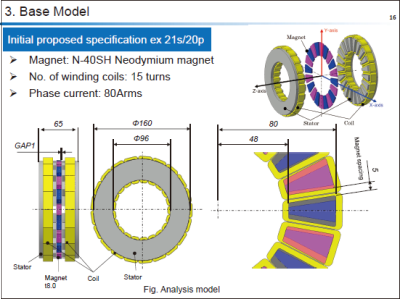 To read Proceedings, please sign-in.
Protected content here, for members only.
You need to sign in as a JMAG software regular user (paid membership) or JMAG WEB MEMBER (free membership).
By registering as a JMAG WEB MEMBER, you can browse technical materials and other member-only contents for free.
If you are not registered, click the "Create an Account" button.
Remember me
Sign In
Create an account (Free)
About authentication ID for JMAG website