Go Hagimoto
Heat Treatment Group, Pre Processing Technology Development Department, Manufacturing Engineering Center,
NSK Ltd.

Abstract
Induction heat treatment has the advantages of low fire risk, low working environment temperature, and reduction of CO2 emissions. Therefore, we are developing induction heat treatment technology and expanding its application. We use induction heating analysis of JMAG for efficient technology development, and shortening the analysis time is important for further accelerating development.
This time, I was able to shorten the analysis time by adopting an AMD CPU, so I will introduce the hardware selection. In addition, I will introduce examples of improving analysis work efficiency by investigating the relationship between the number of elements and parallel computing speed in medium-scale models with less than 1 million elements.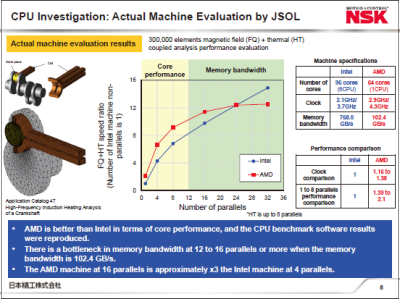 To read Proceedings, please sign-in.
Protected content here, for members only.
You need to sign in as a JMAG software regular user (paid membership) or JMAG WEB MEMBER (free membership).
By registering as a JMAG WEB MEMBER, you can browse technical materials and other member-only contents for free.
If you are not registered, click the "Create an Account" button.
Remember me
Sign In
Create an account (Free)
About authentication ID for JMAG website