AST motor (AST Motor™) was developed based on technology developed for AST coil (AST COIL®), an in-house manufactured product. Aster Co., Ltd. is a proposal-based company that manufactures and sells automotive and industrial equipment parts. We aim to make the world a better place by pursuing innovative technology for the future, starting with the prefecture of Akita.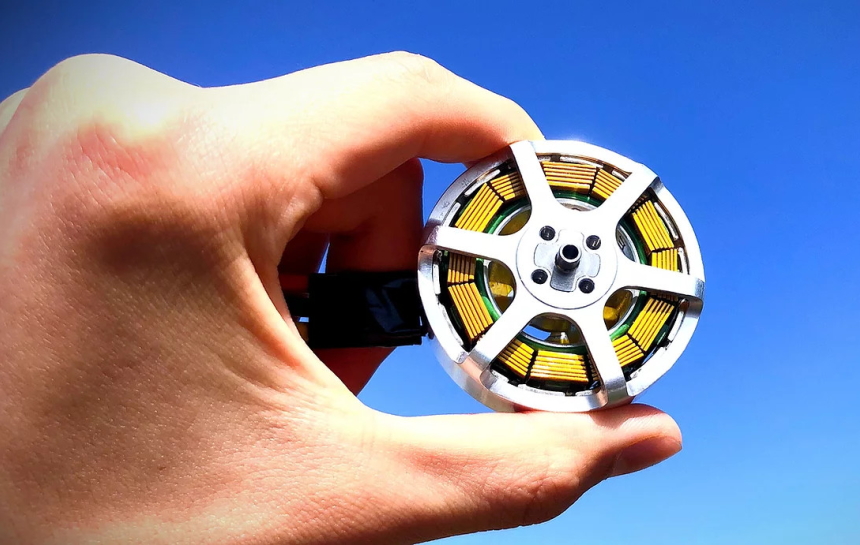 Aster Co., Ltd. developed the AST Motor™, a new high-performance motor that incorporates AST COIL® which are coils developed with a unique lamination technology. They have succeeded in forming coils with plate-shaped copper or aluminum, which was conventionally wound with copper wire. This innovative technology achieves a remarkable lamination factor, dramatically increased efficiency, increased output, reduced size and weight, and at the same time significantly improves recycling efficiency. We interviewed Mr. Yutaka Furuya, the technical director who has been involved since the launch of the business, and Mr. Kyohei Yanagisawa, the Principal Engineer.
A COMPANY WITH STRONG CONVICTION AND THE SLOGAN "MOTIVATION AND COURAGE" AIMS TO BECOME AN INDUSTRIAL BASE IN AKITA PREFECTURE.
First, please tell us about your company's corporate philosophy.
Mr. Furuya:
We created 2 slogans based on the CEO, Mr. Hongo's passion for this business since the company was started.
The first is to "work with someone who has the motivation and the courage to do it." When first established, the previous company ran the Akita Plant, but in the wake of the global financial crisis, Aster Co., Ltd. was established as an independent company. At that time, when Hongo assumed the position of president, he said, "Those who want to leave, should leave. Only those who have motivation and courage should stay." I am proud to have continued working with a leader who has such a strong conviction.
The second is to create the number one company in Akita Prefecture. It's not about creating a company with highly advanced technology nor the size of the company, but the idea is to create a company that employees can boast as being the best in Akita. This is because Akita Prefecture is mainly considered a farming community. People often wonder what the main industry of Akita Prefecture is. This is why our goal is to create a huge base for motor research and development, so Akita Prefecture would be recognized as a prefecture that manufacturers motors. We want people to think "Akita Prefecture" when they hear "motors", and to relate that to Aster Co., Ltd. and its associated companies.
Those are great slogans. Please explain your business in detail. What are your responsibilities at Aster?
Mr. Furuya:
I am the Technical Director of the R & D Department. I've worked closely with the CEO, Hongo since the company's founding for about 10 years. My main task is to manage the various projects that are run in the company.
Mr. Yanagisawa:
I am the Principal Engineer of the Technology Department and am in charge of designing motors. I joined the company in September 2020. Originally, I designed office machine motors, medical equipment motors, and traction motors for vehicles at another company. I have a close relationship with JMAG because I have been using JMAG since I first started designing motors. I may think differently than the older generation in the same workplace since I have been studying and designing motors with JMAG.
If you look at our website, you can see that we handle various types of motors, such as mobility motors and generator motors, as well as motors for drones. My experience gained from using JMAG, including at my previous jobs, has been useful in designing nearly all of our products. The most important thing is how to evaluate the results obtained by magnetic field analysis, which we think about every day. I feel that the more analysis I run, the more experience I gain in analysis methods.
I imagine it would be hard work if you have more motor types. How many people are involved in the design and development of your motor?
Mr. Yanagisawa:
There are about eight people working on the motor design. They are relatively young, three in their 40s, two in their 30s, and three in their 20s. When the company introduced JMAG last September, I was the only one who had experience with JMAG, but since then, I started training our employees, and one is able to use it quite well now.
We did not develop motors until last spring. It's only been about a year and a half since we started working on developing motors. So, the whole team started to work on motor development during this period. I believe the work atmosphere is good despite the workers being of all ages. With a good-natured department manager, a comfortable and friendly workplace, I feel we are a forward-thinking organization.
MAKING MOTORS WITH ENVIRONMENTALLY-FRIENDLY RESOURCES
Looking at your website, we have the impression that your company is also focusing on sustainable activities such as the recycling of coils. Is this something that you are conscious of when developing motors?
Mr. Yanagisawa:
As we have posted on our website, we make all-out efforts to promote aluminum coils in our motors due to the increasing movement advocating the electrification of motors and copper becoming an exhausted resource. There are 10 times more aluminum reserves than copper, and there is far less concern about running out of aluminum than copper. In addition, the melting point of copper is approximately 1300°C, while aluminum can be melted at approximately 600°C. This makes it easier to recycle when disposing of the motor.
It is extremely difficult to reuse the surface coating in conventional motors with round copper wires. In that respect, the coils used in our "AST motors" are highly reusable. (Note 1). In our calculations to date, the reuse rate of round copper wire is about 60-70%, whereas our coils are more than 95% reusable.
Since aluminum has a higher resistivity than copper, there is concern that "it may not be efficient" or that "it may have higher heat generation". However, we have been able to gain recognition that aluminum motors are more sophisticated than copper motors by providing thorough explanations based on JMAG analysis.
(Note 1) When recycling coils, AST coils are made of pure metal material, so they are highly reusable. (Destination https://en.ast-aster.biz/ast-motor)
UNIQUELY DEVELOPED AST COIL WITH DRAMATICALLY IMPROVED HEAT DISSIPATION
Tell us about how JMAG was introduced to your company and what you are currently working on.
Mr. Furuya:
JMAG came with "Yanagisawa." Since Yanagisawa was joining the company, we had to get JMAG. (ha-ha)
Mr. Yanagisawa:
We are currently working on an analysis that accounts for motor loss. Like the traction motor, the eddy current loss becomes dominant with coils that have a large cross-section area. In order to analyze this in detail, we are focusing on analyzing heat distribution.
If a current can flow in a large cross-section area, I believe the issue of how to dissipate heat will need to be considered. What cooling measures are taken?
Mr. Yanagisawa:
For example, if a round wire is used, there is an air layer between the round wires. Basically, the coils are in point contact. Therefore, analysis results show that it is difficult for heat generated by the coil to go through the core and escape to the outside. Since the flat line also has a gap between sheets of paper, the contact surface itself is very small making it difficult for heat to escape.
On the other hand, AST coils are coated with enamel after the coil is shaped as shown on the website, so they are completed with less damage to the enamel and wound tightly compared to ordinary windings. This is an example of good heat dissipation because heat is actively transferred through the core.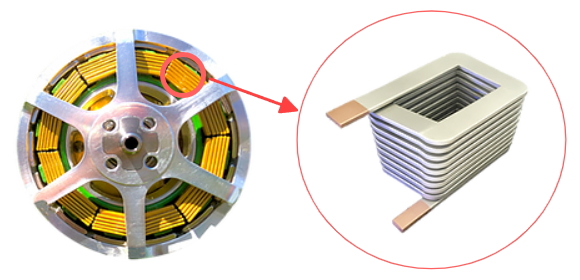 Ultra-light motor using aluminum coil
Automotive motors are generally thought to cool coil by passing insulation oil between the windings. You don't use oil cooling?
Mr. Yanagisawa:
That's right. It may not be possible to install the oil cooling system in a several tens of kW class motor because of the structure of the motor. For example, in general, oil cooling is not used in motors for small EV mobility. Our company handles such motors and we believe that there is a large advantage in not installing oil-cooling systems for these motors. However, we are able to respond to requirements for installing oil-cooling systems because we are able to handle structures that require opening gaps between closely wound coils.
I see. Thank you very much. I believe the AST coil is the key product of your company. Do you plan to apply it to applications other than motors?
Mr. Furuya:
Yes. It is also partially applied to transformers and other applications.
Initially, we promoted AST coils to motor manufacturers and automobile manufacturers. However, being a new product, manufacturers found it difficult to use or apply to their products and this led us to making motors on our own. Instead of promoting just the coil, we took to creating and promoting products that use the coils, similar to a cooking recipe, showing "how a motor that uses our coils can be created" or "the kind of performance that can be obtained". We then built up on this to develop a 2-pillar business strategy based on motors and coils. Our main product is the coil, but our business focuses on both the motor and the coil.
USING JMAG TO ELIMINATE ALL UNNECESSARY PROCESSES, WE SUCCEEDED IN DEVELOPING APPROXIMATELY EIGHT TYPES OF MOTORS IN A SHORT PERIOD OF TIME.
I saw an article about a new EV motor that you are developing and is being prepared for mass production. Could you tell me about this in detail?
Mr. Yanagisawa:
Yes. This new motor was based on a benchmark motor with a maximum output of about 8kW. This motor is designed for air cooling. The motor ensures the same output even though its weight ratio is approximately 1/2, and also has excellent uptime compared to other products listed in our catalog. We believe this is because high power density is achieved by increasing the cross-section area of the coil, and the thermal advantage of the AST coil is achieved from the excellent heat dissipation of the coil itself.
There is always a concern for costs when added value is created, but we have been able to resolve this.
First, when we consider material, copper is three times heavier than aluminum. There is also a two to three times difference in base price between the copper base and aluminum base. In addition, the conductor resistivity of copper is 1.6 times that of aluminum. A rough estimate of the material cost shows that the weight x base price is 2.5 times ÷ 1.6. This means the aluminum coil is significantly lower in cost. We believe that there is also potential in realizing lower-cost magnets and cores by using our coils.
As I mentioned earlier, the motor we developed is lighter than the benchmark motor. We feel the motor can be price competitive, because of the high added value despite the lower cost of using lightweight material.
Thank you for using JMAG in developing new motors. Please tell us about how effective introducing JMAG has been.
Mr. Furuya:
In the first place, we were not able to design motors without JMAG. We managed to develop seven or eight types of motors in a short period of about six months because we were able to prepare an environment for using JMAG.
Mr. Yanagisawa:
I was involved in developing all of our motors, and JMAG was most effective in eliminating almost all unnecessary work. With my experience with JMAG at my former job, I know that products can be made without worrying too much about the difference in analysis. However, that is only based on my experience, and although I have been able to create prototypes and verify them by myself, I can't do it all alone when mass production and other factors are involved. This means we need more people that can analyze and training people to gain such skills is an issue.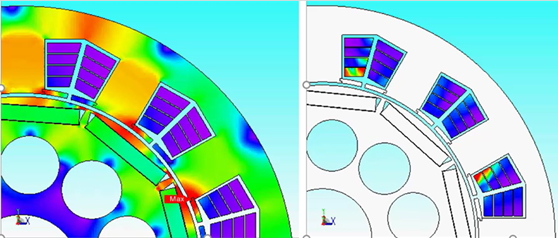 Right: Magnetic flux density contour plot Left: Joule loss contour plot
THE KEY IS TRAINING, ADDING NEW CHALLENGES SUCH AS HIGH PRECISION ANALYSIS AND TOPOLOGY
As you said at the beginning, it is important to train the team. How did you go about it?
Mr. Yanagisawa:
I started to train the people on our team around March. One of the young employees I'm working with now used to work on machines and knows little about electricity, so we're taking it step by step. We ran an analysis and took actual measurements of the existing motor to see the difference. I think the fastest way to learn is to have the trainees see for themselves how the analysis results change by the way the mesh is cut and the type of conditions specified. I don't want them to get into the habit of just looking at the values and not noticing the errors, so I make sure the trainees experience both actual measurement and simulation. I want them to be able to review analysis results on their own.
I also made the young employee I've been working with, study all the JMAG tutorials. After four months, he/she is now able to run the analysis of the next drone motor to be developed on his/her own. So he/she's making progress.
You sure made a fast start. Do you have any plans to increase the number of employees in the future and is there anything you want to try using JMAG?
Mr. Yanagisawa:
I am constantly thinking about hiring more people. No doubt that training will eventually give the trainees enough experience to train others. So, somewhere along the line, I would like to retire from training and start something new. I want to look further into high-precision loss analysis, and there is still a lot that needs to be analyzed, including topology.
We would definitely want to be of help when you challenge something new. Lastly, do you have any requests for JMAG?
Mr. Yanagisawa:
I'm sure that improvements can be made in coil modeling and condition setting. When modeling each winding with a flat wire, it is time-consuming to re-set the conditions when changing the number of windings. For example, I think it can be controlled with a little manipulation, such as giving the material part fixed ID numbers. I would by all means, like you to improve this function.
Your opinions will be used as a reference for future JMAG developments.
Thank you for talking to us about how you started using JMAG when your company was first started, the results of using JMAG, and your future challenges.
Interviewee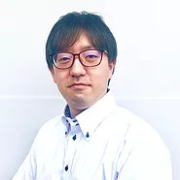 Mr. Yuta Furuya
Technical Director and
R & D Department, GM
ASTER CO., LTD.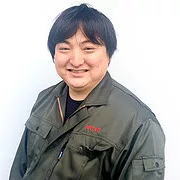 Mr. Kyohei Yanagisawa,
Tech Dept.,
Principal engineer, (Motor)
ASTER CO., LTD.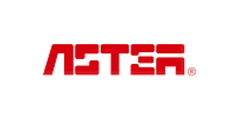 Company name:
Aster Co., Ltd.
Representative:
Takenobu Hongo, CEO
Established:
January 2010
Location:
12-3 Yanagida, Yokote-City, Akita Prefecture
Business activities:
Manufacturing and sales of motors, coils, automotive parts, and industrial equipment parts
To download the PDF version, please sign-in.
Protected content here, for members only.
You need to sign in as a JMAG software regular user (paid membership) or JMAG WEB MEMBER (free membership).
By registering as a JMAG WEB MEMBER, you can browse technical materials and other member-only contents for free.
If you are not registered, click the "Create an Account" button.
Remember me
Sign In
Create an account (Free)
About authentication ID for JMAG website