Petar Gartner
Head of Electric Machine Modeling Group, Typhoon HIL, Inc
Ivan Celanovic
Co-founder and Chief Business Development Officer, Typhoon HIL, Inc

Abstract
In this talk we will demonstrate Typhoon HIL's ultra-high fidelity power electronics and motor drive Hardware in the Loop (HIL) solution, including vertically integrated hardware and software, with seamless integration with JMAG RT machine models. We will demonstrate a typical workflow for the design, testing, and verification of Electric Vehicle (EV) drive train starting with JMAG FEA motor design, followed by seamless export of ultra-high fidelity spatial-harmonic Permanent Magnet Synchronous Machine (PMSM) motor model from JMAG-RT into Typhoon HIL simulation environment. After demonstrating complete Software in the Loop (SIL) simulation capability we will demonstrate one-click export of the model into the Controller Hardware in the Loop (C-HIL) real-time simulation performed in the HIL404 simulator, Typhoon HIL's latest 4th generation HIL platform interfaced with a real Engine Control Unit (ECU) in the loop. In addtion, we will showcase HIL interface towards the test automation software and also show XIL ASAM compliant API functions.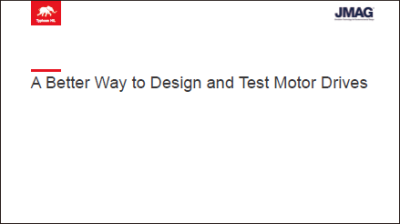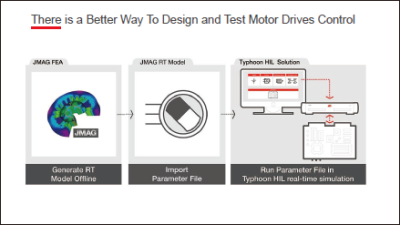 To read Proceedings, please sign-in.
Protected content here, for members only.
You need to sign in as a JMAG software regular user (paid membership) or JMAG WEB MEMBER (free membership).
By registering as a JMAG WEB MEMBER, you can browse technical materials and other member-only contents for free.
If you are not registered, click the "Create an Account" button.
Remember me
Sign In
Create an account (Free)
About authentication ID for JMAG website