Ayaka Nakata
Product Development Group, Product Development Dept.,
KOYO THERMO SYSTEMS CO.,LTD.

Abstract
Steel parts used in automobiles and robots are subjected to surface modification treatment in order to obtain the necessary strength, and gas carburizing is the most common heat treatment. In order to meet the requirements of a carbon-neutral society in the future, we have developed an " ultra rapid carburizing process " using induction heating as a more environmentally friendly heat treatment method.
We have been working on the design of induction heating coils and the examination of heat treatment conditions using JMAG, and introduced "The Necessity of Large-Scale Calculation in Induction Heating" at last year's Users Conference. One of the challenges is to build an analysis environment that can be applied to more large parts and to a wider range of highly accurate simulations of heat treatment equipment by expanding the analysis model.
Therefore, we have been promoting the use of the cloud computing in JMAG since last year.
In this presentation, we will introduce the realization of highly parallel calculations by using the cloud computing and its effects.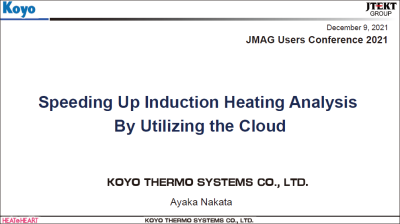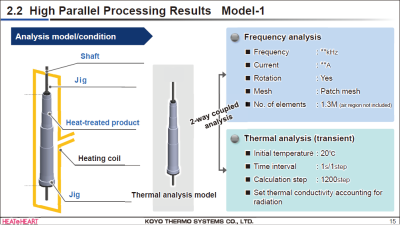 To read Proceedings, please sign-in.
Protected content here, for members only.
You need to sign in as a JMAG software regular user (paid membership) or JMAG WEB MEMBER (free membership).
By registering as a JMAG WEB MEMBER, you can browse technical materials and other member-only contents for free.
If you are not registered, click the "Create an Account" button.
Remember me
Sign In
Create an account (Free)
About authentication ID for JMAG website