Yuki Sugiura
Design 3group, Technical group, Nagoya plant, Tosei Engineering corp.
Ryo Kagiya
Customised inspection and measurement machine Engineering Group, Nagoya plant,
Tosei Engineering corp.
Abstract
For in-line measuring machines/inspection machines, there are increasing demands in measurement using non-contact sensing. Design and adjustment of the measuring system focused on the sensing section is crucial for guaranteeing accuracy.
Traditionally, we have been adjusting/managing the position/orientation relative to the workpiece being measured using a contact-type probe, however, in the non-contact sensing, not only the aforementioned adjustment and management, but also the matching with the material of a workpiece to be measured based on the fundamentals of sensor become important.
We have decided to employ the simulation software as a result of reaching the conclusion that the visualization based on the fundamentals of the sensor is necessary for the accuracy designing of a non-contact sensor.
In this presentation, we introduce our initiative in the visualization of magnetic flux and current densities of the eddy current displacement sensor using JMAG.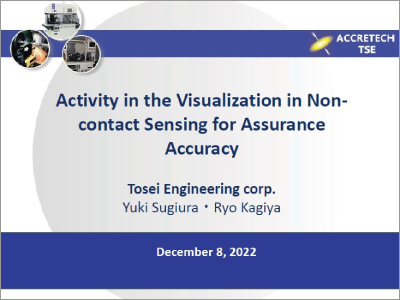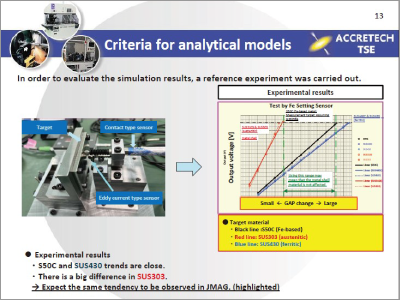 To read Proceedings, please sign-in.
Protected content here, for members only.
You need to sign in as a JMAG software regular user (paid membership) or JMAG WEB MEMBER (free membership).
By registering as a JMAG WEB MEMBER, you can browse technical materials and other member-only contents for free.
If you are not registered, click the "Create an Account" button.
Remember me
Sign In
Create an account (Free)
About authentication ID for JMAG website