Zoltán Nádudvari
Rolls-Royce Hungary kft,
Rolls-Royce Electrical
Abstract
The electrification of aircraft is playing a significant role on the path to reduce the aviation industry's environmental footprint. The industry poses specific challenges for the development engineers due to the strict requirements and design boundary conditions. Developing an electrical drive train which meets the high safety standards, the desired efficiency and power to weight ratio requires a multidisciplinary design approach to cover all the requirements and design aspects. In an agile environment different engineering teams often use different platforms / ecosystems (e.g. MATLAB, Simcenter, JMAG) to deliver the results in time and face the challenge of real-time simulation and test data exchange between the disciplines. The aerospace industry set the highest standards to the engineer regarding the design process and for validation and verification of the design results. By increasing the confidence of the simulation result, the effort we must invest into the certification tests can be reduced. In Rolls-Royce Electrical, we were able to develop a process to simulate the power electronics effect on the electrical machine at the earliest phase of the design by connecting JMAG and MATLAB-Simulink. A prototype electrical machine was built and tested and the test results – focusing on the losses – were compared with the simulation results for model variation both in case of sinusoidal and PWM load.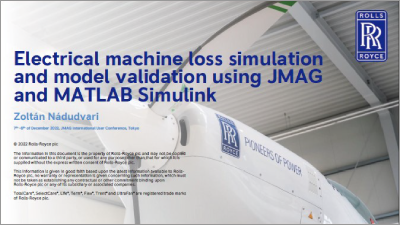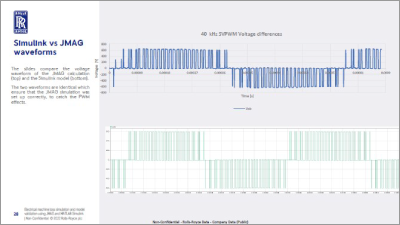 To read Proceedings, please sign-in.
Protected content here, for members only.
You need to sign in as a JMAG software regular user (paid membership) or JMAG WEB MEMBER (free membership).
By registering as a JMAG WEB MEMBER, you can browse technical materials and other member-only contents for free.
If you are not registered, click the "Create an Account" button.
Remember me
Sign In
Create an account (Free)
About authentication ID for JMAG website