Hiroshi Mitsuda
Traction Motor Technology Sept. Electromechanical Systems Dept., Advanced Technology R&D Center, Mitsubishi Electric Corporation
Abstract
The demand for air transportation is predicted to grow, and the International Air Transport Association has set a goal to improve fuel efficiency by 1.5% per year and to reduce CO2 emissions by 50% compared to 2005 levels by 2050. In order to accomplish these goals, electric/hybrid-electric propulsion systems have been studied recently in addition to looking for ways to upgrade existing airplane systems. It should be noted that the power density, efficiency, and power factor could be critical for electric/hybrid-electric propulsion systems.
We studied the motor performance of rotor-stator configurations using power simulation license.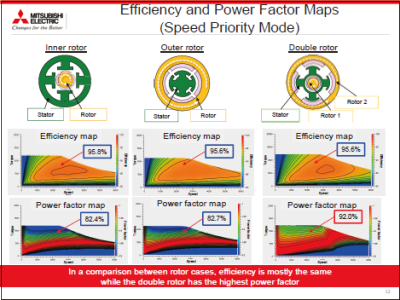 To read Proceedings, please sign-in.
Protected content here, for members only.
You need to sign in as a JMAG software regular user (paid membership) or JMAG WEB MEMBER (free membership).
By registering as a JMAG WEB MEMBER, you can browse technical materials and other member-only contents for free.
If you are not registered, click the "Create an Account" button.
Remember me
Sign In
Create an account (Free)
About authentication ID for JMAG website