Yoshihiro Okumatsu
R-Frontier Div. Frontier Research Center,
TOYOTA MOTOR CORPRATION

Abstract
Toyota has developed a basketball robot which participated in a 3-point contest held at the B.LEAGUE ALL-STAR GAME 2020 in Hokkaido. B.LEAGUE ALL-STAR 2020 IN HOKKAIDO(Youtube)
Because this basketball robot required a very large amount of output power at the moment of pitching, the motor of the robot also required an instantaneous high output power.
In this presentation, along with an overview of the instantaneous high-output power motor for robots, we will explain the optimum design that was obtained using the optimization function in JMAG-Designer Ver.20.0.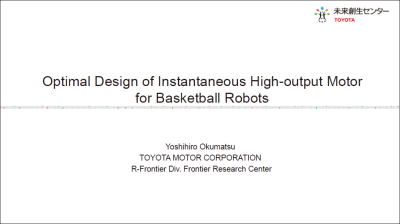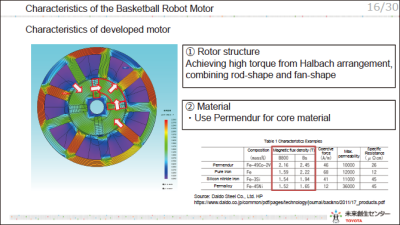 To read Proceedings, please sign-in.
Protected content here, for members only.
You need to sign in as a JMAG software regular user (paid membership) or JMAG WEB MEMBER (free membership).
By registering as a JMAG WEB MEMBER, you can browse technical materials and other member-only contents for free.
If you are not registered, click the "Create an Account" button.
Remember me
Sign In
Create an account (Free)
About authentication ID for JMAG website