Takashi Kawaguchi
Development Process Administration Department,
E-Drive and Charger Development Division,
Energy System Design Development Supervisory Unit
Business Development Operations,
Honda Motor Co., Ltd.
Abstract
Honda aims to realize carbon neutrality for all products and corporate activities Honda is involved in by 2050, striving to eliminate carbon emissions from power sources of a wide variety of products. We have been promoting the efficiency of the development process using CAE in strengthening electrified vehicle development in the automobile business. In this presentation, we introduce our initiative in the evaluation methods utilized in the noise and vibration development for a motor in the drive-unit by linking Romax and JMAG-Designer. The methods consist of the evaluation of excitation force by resolving rotational and spatial orders in the magnetic excitation force, and the analysis of response contributions from the components of torque ripple, radial, and tangential directions, which are considered the main magnetic excitation force.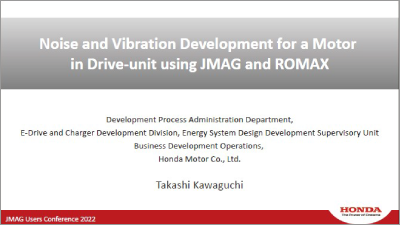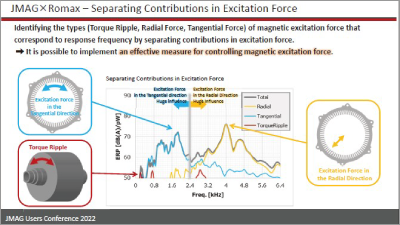 To read Proceedings, please sign-in.
Protected content here, for members only.
You need to sign in as a JMAG software regular user (paid membership) or JMAG WEB MEMBER (free membership).
By registering as a JMAG WEB MEMBER, you can browse technical materials and other member-only contents for free.
If you are not registered, click the "Create an Account" button.
Remember me
Sign In
Create an account (Free)
About authentication ID for JMAG website