Masaomi Kawabe
DESIGN SECTION, INDUCTION DEVELOPMENT DEPARTMENT,
TKE Co.,Ltd.

Abstract
We are using JMAG to manufacture coils for induction heating.
At our company, the flow of "coil design ⇒ confirmation of heating patterns with JMAG ⇒ modeling with a metal 3D printer" has taken hold, and we have been able to make a great contribution to the quality and cost aspects, such as shortening the development period of heating coils, reducing the number of useless coils that we would otherwise have produced, and developing coil shapes that can better satisfy heat treatment specifications.
In addition, with the guidance and support of JSOL, we took on the challenge of "topology optimization + modeling with metal 3D printer" for heating coils. As a result, the difficulty in designing and manufacturing heating coils which is the most important in induction heating has been greatly reduced. We have verified the possibility of revolutionizing the world of induction heating in the future.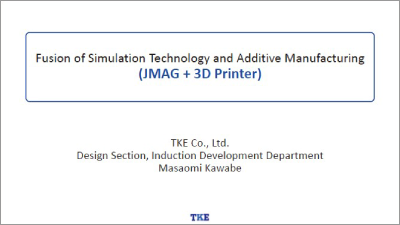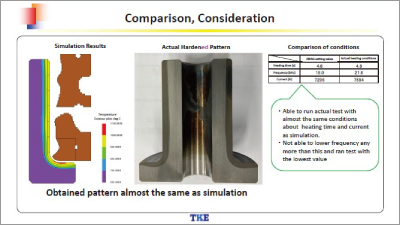 To read Proceedings, please sign-in.
Protected content here, for members only.
You need to sign in as a JMAG software regular user (paid membership) or JMAG WEB MEMBER (free membership).
By registering as a JMAG WEB MEMBER, you can browse technical materials and other member-only contents for free.
If you are not registered, click the "Create an Account" button.
Remember me
Sign In
Create an account (Free)
About authentication ID for JMAG website