Daniel Keller
Research and Development, Mercedes Benz AG
Abstract
Electrification is a global trend in the automotive industry and its purpose is to support the transformation to a more sustainable mobility. Electrifying cars is not only a matter of batteries; it is as well a matter of efficient drivetrains. The electric drive unit, consisting of electric motor and power electronics, is the centerpiece of these electrified automotive powertrains. With development cycles shortening dramatically, today it is necessary to increase the computing competence and increase the effort to develop smart simulation environments. The author utilizes the dual three-phase PMSM to introduce a machine design and simulation workflow considering a multiphase approach. A detailed view on efficiency maps and controllability of dual three-phase machines is spent to describe the special characteristics of this machine type. Based on the results, the author presents a typical use case for this topology.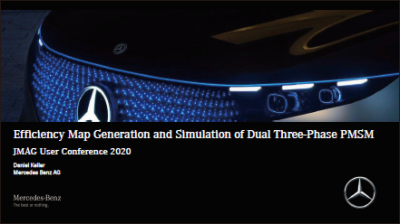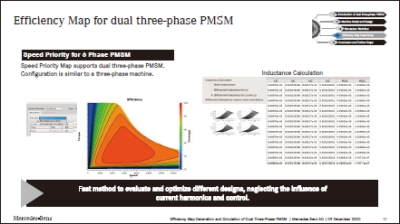 To read Proceedings, please sign-in.
Protected content here, for members only.
You need to sign in as a JMAG software regular user (paid membership) or JMAG WEB MEMBER (free membership).
By registering as a JMAG WEB MEMBER, you can browse technical materials and other member-only contents for free.
If you are not registered, click the "Create an Account" button.
Remember me
Sign In
Create an account (Free)
About authentication ID for JMAG website