Tomohiro Kuroda
AISIN CORPORATION

Abstract
Because multiple characteristics are maximized in the development of electromagnetic actuators, although modeFRONTIER (JMAG + multi-objective optimization) being a conventional tool still sees continued usage, however, there has been the issue of large calculation costs in situations where the required specifications (mounting space, etc.) repeatedly see several changes.
In this presentation, the relationship between design parameters and characteristics is first constructed as a predictive model by incorporating the results calculated with modeFRONTIER and JMAG into machine learning. We were then able to speed up calculations by using this predictive model in optimization calculations, and we show a case study for reducing calculation costs significantly in this presentation.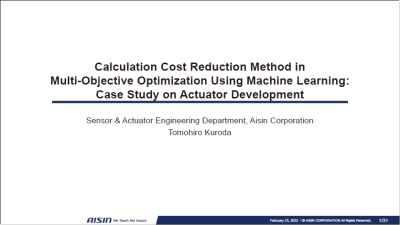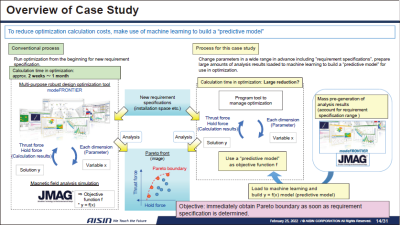 To read Proceedings, please sign-in.
Protected content here, for members only.
You need to sign in as a JMAG software regular user (paid membership) or JMAG WEB MEMBER (free membership).
By registering as a JMAG WEB MEMBER, you can browse technical materials and other member-only contents for free.
If you are not registered, click the "Create an Account" button.
Remember me
Sign In
Create an account (Free)
About authentication ID for JMAG website