Bernd Cebulski
System Development E-Traction,
IAV GmbH

Abstract
Modern electric motors for automotive EV applications have to match a number of requirements with high efficiency and low cost still being the most important. Apart from the general design task, the engineer has to handle many additional challenges for specific problems and issues. When it comes to accuracy comparison against test bench validations every detail can make a difference. The limiting accuracies of state-of-the-art 2D simulations do not always meet the expected precision for performance predictions and auxiliary effects.
In this contribution we will present modern approaches and design flows to face the most demanding FEA simulation tasks. The efficient deployment of JMAG-Designer will be demonstrated in typical phases of modern electric motor design.
The additional use of 3D design tasks will show a significant improvement compared to conventional 2D approaches and increase accuracy of the performance prediction as well as approve analytical equations and rule-of-thumb models in some exercises that cannot be fully achieved with FEA alone.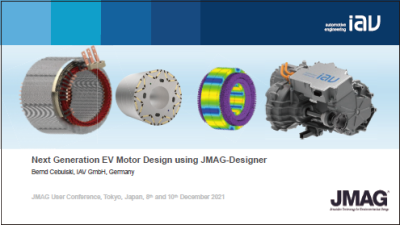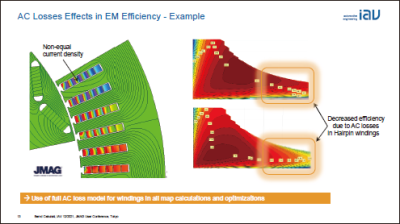 To read Proceedings, please sign-in.
Protected content here, for members only.
You need to sign in as a JMAG software regular user (paid membership) or JMAG WEB MEMBER (free membership).
By registering as a JMAG WEB MEMBER, you can browse technical materials and other member-only contents for free.
If you are not registered, click the "Create an Account" button.
Remember me
Sign In
Create an account (Free)
About authentication ID for JMAG website