Toshifumi Yamakawa
Electric Powertrain Control Function Development Div.,
TOYOTA MOTOR CORPORATION

Abstract
The THS(Toyota Hybrid System) is an electrical system that combines a motor system and a boost converter system. In the past, control design and operation verification were performed separately for each system. After that, the system was combined and vehicle evaluation was carried out. However, even if there was no problem with each system alone, there was a problem that occurred only when the systems were combined, and many redoes occurred. Therefore, by utilizing JMAG-RT, which can reproduce current and voltage with high accuracy, it has become possible to clarify the transient characteristics including the control system and judge whether it is stable or unstable by simulation. As a result, in addition to the fact that the period of vehicle evaluation was greatly reduced, it became possible to judge the feasibility before the hardware was made. The hardware specifications could be minimized, and miniaturization and cost reduction could be achieved.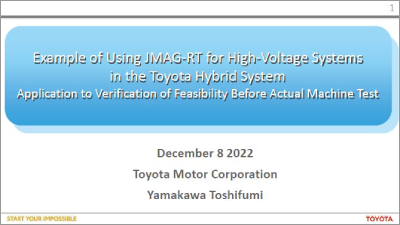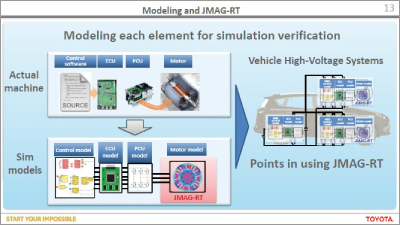 To read Proceedings, please sign-in.
Protected content here, for members only.
You need to sign in as a JMAG software regular user (paid membership) or JMAG WEB MEMBER (free membership).
By registering as a JMAG WEB MEMBER, you can browse technical materials and other member-only contents for free.
If you are not registered, click the "Create an Account" button.
Remember me
Sign In
Create an account (Free)
About authentication ID for JMAG website