Kengo Toda
Quality Management Department, TODA RACING Co., Ltd.

Abstract
Our company provides total support from motor design and development to prototyping and evaluation, with test machines included. In consideration of cooling to improve the performance of in-vehicle motors, thermal fluid analysis with simulations is crucial.
Last year with a simple model, heat distribution was obtained from JMAG, mapped in the similarly domestic software scFLOW, and then handled in an electromagnetic field thermal fluid coupled analysis. As an additional second phase to this, coupled analysis was performed on the actual model, and detailed analysis results were verified and optimized.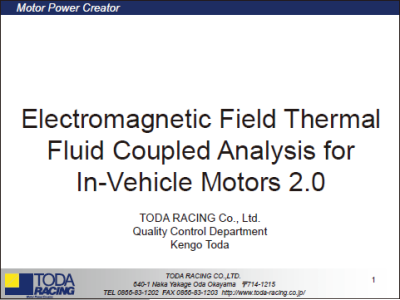 To read Proceedings, please sign-in.
Protected content here, for members only.
You need to sign in as a JMAG software regular user (paid membership) or JMAG WEB MEMBER (free membership).
By registering as a JMAG WEB MEMBER, you can browse technical materials and other member-only contents for free.
If you are not registered, click the "Create an Account" button.
Remember me
Sign In
Create an account (Free)
About authentication ID for JMAG website